【FYI】 ASEACCU Leadership Training Program
發布日期 2018-06-06 09:18:00
Dear All Member Institutions of The Association of Southeast and East Asian Catholic Colleges and Universities (ASEACCU):
Greetings!
The University of Santo Tomas will be hosting the first ASEACCU Leadership Training Program for Administrators and Academic Officials on August 6-10, 2018.  The training program will cater to new administrators of ASEACCU member institutions. The leadership training program can only accommodate a certain number of participants due to the limited number of slots. Those who cannot be accommodated will be given another schedule. The deadline of registration is on June 30, 2018.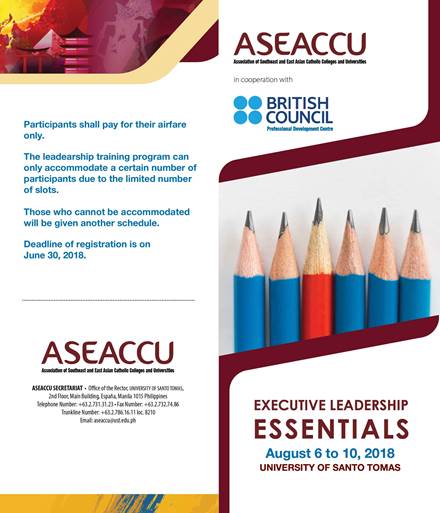 Click HERE (https://bit.ly/2si3x1y) to download the registration form and submit the accomplished copy of the same to aseaccu@ust.edu.ph
Also attach an image file or photo of the applicant to your email.
Please let us know if you have any questions. Thank you very much.
This email and any attachments to it may be confidential and are intended solely for the use of the individual to whom it is addressed. Any views or opinions expressed are solely those of the author and do not necessarily represent those of University of Santo Tomas. If you are not the intended recipient of this email, you must neither take any action based upon its contents, nor copy or show it to anyone.